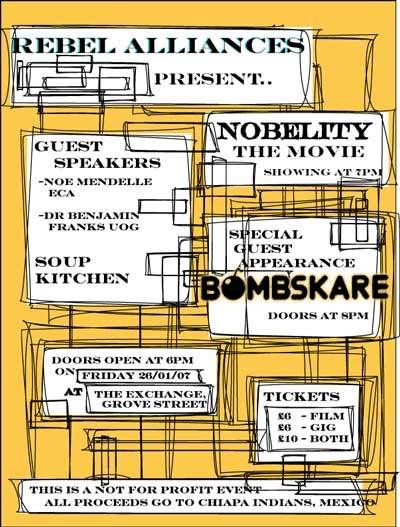 (The actual event has no name but Zapatista aid sounded kinda catchy I must say)
Would like to invite all Zapatista supporters to this event at the Exchange ,55 Grove Street (which is in the same space as Marcos pool hall if that is of any help) on friday as all profits will go specifically to the Zapatista community clinic.
Personally I am looking forward to hearing Franks' talk and would recommend it to anyone interested in Libertarian Socialism/anarchism as he wrote Rebel Alliances:The Means and Ends of Contemporary British Anarchisms http://www.word-power.co.uk/catalogue/1904859402.Which I am reading at the moment and is a terrific work if I may say so.
An interesting piece of trivia is that the talk was originally to be given by one Tommy "Thomas" Sheridan but for reasons unknown it is no longer to be.
If you would like to hear some of bombskare here is their myspace I have not heard any ska before so I thought it would be terrible but I have been pleasantly surprised http://www.myspace.com/bombskare
Anyway hope to see you there any questions just let me know I should be able to respond quickly.