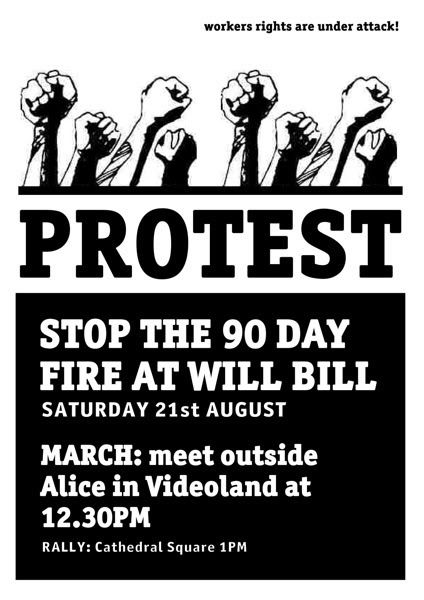 STOP THE ANTI-WORKER LAWS!
NATIONAL DAY OF PROTEST: Saturday August 21st.
MARCH: Meet outside Alice in Videoland at 12.30PM
RALLY: Cathedral Square at 1PM
The National Government recently announced a series of new attacks on workers across New Zealand. The raft of proposed changes to the anti-worker Employment Relations Act (ERA, brought in by the previous Labour Government in 2000) and the Holidays Act will serve to further cut job security, wages and conditions for hundreds of thousands of workers in both the public and private sectors.
What are the changes? Read them here: http://beyondresistance.wordpress.com/2010/07/27/workers-set-to-face-more-attacks/
JOIN THE PROTEST!
We will be marching to the CTU rally from Alice in Videoland at 12.30pm. Join the march, bring some noise!
We will also be marching as an anti-capitalist bloc from the rally. Details TBC.
Download the poster here: http://zinelibrary.info/files/August_21_Protest.pdf