RED & BLACK, LaborFest, and Niebyl-Proctor Marxist Library present:
Porto Marghera-The Last Firebrands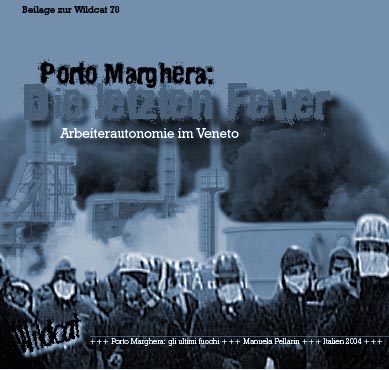 Friday, July 24, 2009 at 7:00 p.m.
Film screening
(2004) 52 minutes, by Manuela Pellarin
A film about petrochemical workers who took matters into their own hands in the giant industrial zone engulfing Venice. The mass refusal of literally toxic work forced hours on the job down at the same time as driving wages up. The labor hierarchy that sets white collar against blue, permanent against casual, was attacked by workers insisting on the maximum for everyone. The battle in the factory was linked to working-class life outside through direct appropriation of basic social needs (electricity, housing, food).
Unlike most more or less academic accounts of Italian Operaismo, which tend to focus on high-profile groups and individual leaders, Porto Marghera documents autonomous worker organization from the point of view of the worker-militants themselves, who talk about their experiences in the film. Many aspects and problems of this phase of class struggle are of immediate relevance today.
40th Anniversary of Italy's "Hot Autumn"
Discussion (immediately following film)
Italy experienced massive reconstruction after World War II with large-scale migrations of the unskilled, often peasants, from the south to work in the factories of the north. As industry grew so did cities like Turin, but chronic housing shortages continued to plague workers. The Hot Autumn was sparked at FIAT's Mirafiori plant in Turin as the class struggle spilled past the factory gates as workers coordinated movements for self-reduction; in September '69 FIAT workers refused to pay for the trams and buses, as well as going into stores to demand 30, 40 & 50% reductions in prices, backed only by showing their factory ID badges. They squatted houses, formed neighborhood committees that self-reduced their rents, occupied government offices, and thousands of workers collectively burned their electricity bills. The social wildcat moved from factories to universities, from working class districts to the entire social terrain. Young workers made demands for more pay with less work; massive worker-student assemblies made unconditional demands for "workers' power" and even began to question the nature of work itself. The government and the unions were helpless in stopping these new forms of working class offensive.
The state's secret service responded with its strategy of tension which reached its first climax in the killing of 16 people and wounding of 87 in a bombing attack at Piazza Fontana in Milan on December 12, 1969. Yet the struggles continued throughout the 1970s and resulted in many inspiring examples of working class self-organization in the struggle against capital. A brief presentation to be followed by open discussion.
___________________________________________________________________________________
Niebyl-Proctor Marxist Library
6501 Telegraph Avenue (at 65th Street) Oakland, California
(510) 595-7417

Nearest BART: Ashby
Wheelchair accessible