_________________________________________
Housmans – radical booksellers since 1945
_________________________________________
Haiti, Aristide and the Politics of Containment
with Peter Hallward
_________________________________________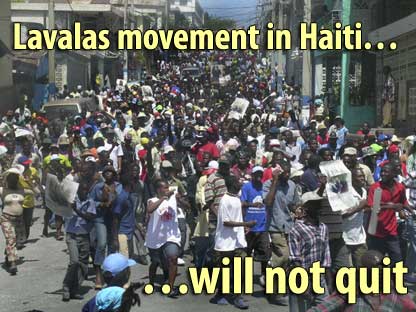 Author Peter Hallward will be discussing how Haiti, once the most lucrative European colony in the Caribbean, has become one of the most divided and impoverished countries in the world.
In the late 1980s, a remarkable popular mobilisation known as Lavalas, or 'the flood', sought to liberate the island from decades of US-backed dictatorial rule. After winning a landslide election victory, in 1991 the Lavalas government, led by President Jean-Bertrand Aristide, was overthrown by a bloody military coup. Peter's latest book 'Damming the Flood', analyses how and why Aristide's enemies in Haiti, the US and France instigated a second coup in 2004 to remove Aristide and Lavalas for good.
The elaborate international campaign to contain, discredit and then overthrow Lavalas at the start of the twenty-first century was perhaps the most successful act of imperial sabotage since the end of the Cold War. Its execution and its impact provide important lessons for those interested in today's political struggles in Latin America and the rest of the post-colonial world.
"This riveting and deeply-informed account should be carefully read by those who recognise that Haiti's tragic history is a microcosm of imperial savagery and heroic resistance which, as Hallward argues, will continue to shape Haiti's political future if its people are granted the opportunity to take their fate into their own hands. " – Noam Chomsky
Event information
_______________
Wednesday 20th August – 7pm
Housmans Bookshop
5 Caledonian Road
King's Cross
London N1 9DX
Tel: 020 7837 4473
Free entry
Nearest tube: King's Cross
housmans.com/events
Tel: 020 7837 4473
shop email: shop@housmans.com
map: http://tinyurl.com/2oq9vv
"Support the shop that supports your campaigns!"