A paper in medical journal The Lancet last week shows that poor vaccination uptake in some European countries has lead to measles outbreaks across Europe, with just five countries in Europe accounting for 85% of cases. The growing 'exportation' of measles from Europe to regions thought to be clear of measles has undermined immunity elsewhere and setback the worldwide eradication program.
After the previous discussion of the measles outbreak in Cheshire, a timely paper in The Lancet last week highlighted how daft anti-vaccination nonsense is.
Measles in Europe: an epidemiological assessment1
The study collated data (inc. incidence of measles and vaccination rates) from 32 European countries in 2yrs, 2006 and 2007, and found that 5 countries of the 32 account for 10,329 (85%) of a total of 12,132 cases of measles.
Most cases were unvaccinated or incompletely vaccinated children; however, almost a fifth were aged 20 years or older. (table below)


The majority of 'imported' cases in Europe in 2007 were from other European countries (Switzerland the highest) and typically from countries with the highest measles occurrence rate - those of course mostly occurring in children not vaccinated properly, or at all. (figure below)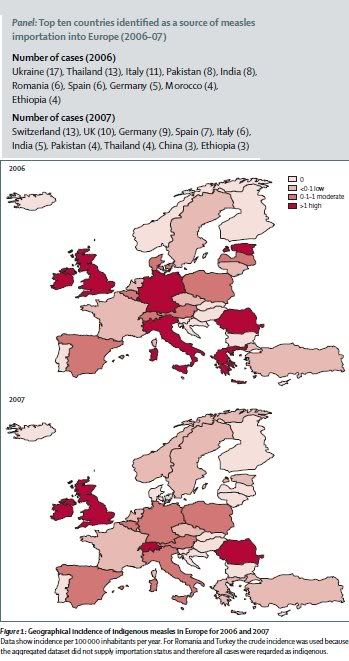 New Scientist also summarizes the report noting that measles has been imported into areas previously declaring eradication, like Latin America. Effectively, anti-vaccination campaigns in European countries have undermined collective immunity in other regions due to vaccination uptake in some countries - including Germany, the UK and Italy - being too low to stop the spread of measles.
The commentary on the paper lists various reasons for incomplete vaccination uptake in different countries:
The UK is only slowly recovering from its unsubstantiated scare that the measles, mumps, and rubella vaccination was linked to increased risk of autism.5 Also, the suspension of the National Measles and Rubella Vaccination Campaign in the Ukraine6 shows how vulnerable vaccination is to unfounded reports of side-eff ects. Whereas Germany has its anthroposophic communities and measles parties, the Netherlands struggles with religious objectors in the bible belt, which, after the last outbreak in 1999–2000 is again moving towards critical numbers of susceptible individuals, suffi cient to sustain a larger outbreak.
The goal of eliminating measles by 2010 seems a lot longer off due to the failure to achieve universal uptake.
Well done the anti-vaccination lot. Twats.
note: anyone curious to see full-text I'll email you a pdf